Dear Delilah,
When I was pregnant with you, my Grandma, knowing how treacherous our winters can be, sent us a snowsuit for you. When we unwrapped it, we stared at it for a moment, speechless, in disbelief that we'd ever have a baby big enough to fit into it. We packed it away to save it for "someday", certain that it would be years before you'd fit into it.
Last weekend, we had the first snowfall of the year. Daddy pulled out your snowsuit to see just how big on you it would be, and seeing you in that puffy pink cocoon reminded me of a great scene from 'A Christmas Story', my favorite holiday movie, in which Randy is so bundled up that he can hardly move.
When we took you outside and sat you down in the snow, you were unable to remain upright, and I couldn't control my laughter, thinking of Randy rolling around in the snow whining "I can't get up!".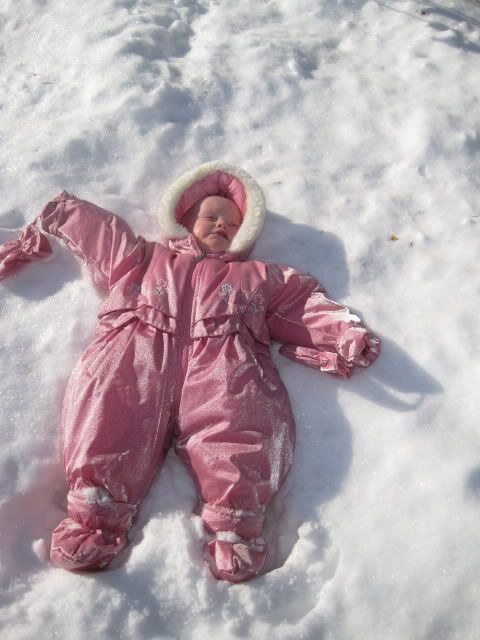 By next year, your snowsuit will probably fit properly, and you'll be able to maneuver in it enough to actually enjoy playing in the snow. Based on your reaction this year, your attitude toward snow comes right from your mama: pretty to look at, but keep it off me.
Love,
Mama
***********************************************************************************
If you like this blog, and haven't already done so, please vote for 'Dear Delilah, Fine and Fair' on
Babble's" Top 50 Mom Blogs
. Thanks for your support!