Dear Delilah,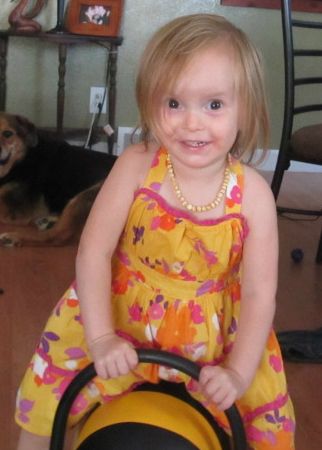 For your first birthday, Grandma Bev and Grandpa Rudy gave you a ride-on toy, a
Wheely Bug Bee.
It wasn't until after your second birthday that you were actually big enough to finally ride it, and in the past year, you've become a pro at zooming around the house on it, without incident.
Until yesterday.
You had just finished lunch, and it was getting to be nap time, but you were burning off that last burst of energy, riding around your bee. A book caught your eye, and as you moved to quickly dismount your bee and grab the book, the bee slipped out from under you and you fell down, bumping your head in the process. It wasn't a particularly bad or far fall, nor was it a very hard bump, but it startled and upset you, as can be expected when one falls without warning.
After you were sufficiently comforted and calmed down, we headed up to read that book in preparation for nap time. You woke up in good spirits and we headed down stairs where the snack plate I'd prepared awaited you. Before you even noticed the snack, you looked at the Bee, still sitting right where the fall took place. You looked at, then looked at me, and said "Mama, I fell down." I nodded in agreement, and before I could say anything, you climbed back on and announced "I try again."
Off you went, as my heart swelled with pride at your courage and wisdom. Without any prompting from me, and without fear or reservation, you fell off and you got right back on. Hold on to that self-taught lesson, dear daughter, for life will be filled with many unexpected falls, and many opportunities to try again.
Love,
Mama
***
If you like this blog, please vote for me on Babble's Top 100 Mom Blogs.
Thanks for your support!