Last summer, I tried and shared a recipe for
Quinoa Pizza Bites
. My sister brought me some cooked quinoa and I wanted to make some, but didn't have the right ingredients on hand, so I decided to try my hand at a cheesy broccoli version instead. The results were delicious! This recipe makes approximately 36 "bites" which I assume freeze well. (I just found some of the pizza bites in the back of my freezer from August, and they held up great!) It takes about 5-10 minutes of preparation and 15-20 minutes of baking time.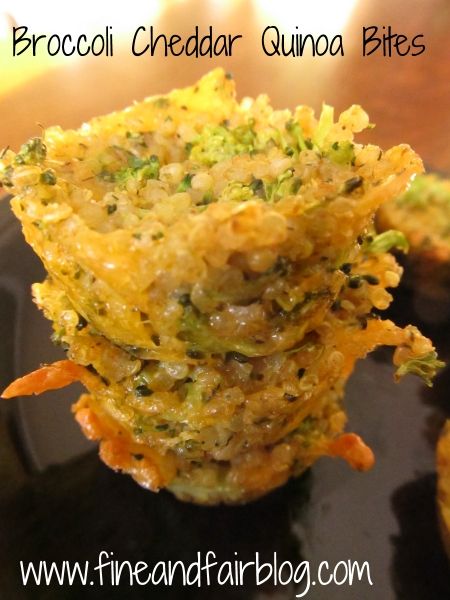 What You'll Need:
2 Cups cooked Quinoa
2 Cups chopped fresh broccoli florets (I imagine frozen would do in a pinch)
2 Cups shredded cheddar cheese
1 tsp garlic salt
1 tsp ground mustard
1 tsp paprika
1 tsp of your favorite all-purpose seasoning
What You'll Do:
Preheat oven to 350 degrees.
Prepare a mini-muffin tin by spraying with cooking spray, greasing in your chosen manner, or filling with mini-muffin papers. (I used cooking spray.)
Combine all ingredients in a medium mixing bowl.
Spoon mixture into mini-muffin pan (heaping tablespoon) and press down lightly with the back of the tablespoon.
Bake for 15-20 minutes.
Allow to cool on wire racks.
Enjoy!