I'm pleased to share a fairly typical Summer Sunday Day in the Life (DITL) of our little family. Weekends in the summer around here typically include gardening, baseball, time with friends and family, and of course, shared parenting. What does a summer day in your life look like?
Delilah kicks off the day with a cold left-over pancake and some almond milk.
She's in a bit of a nudist phase these days, but she let me talk her into underwear this morning.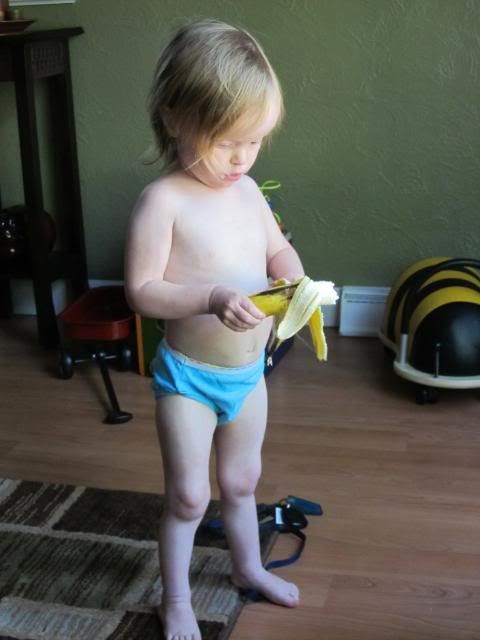 Still hungry and unwilling to wait for breakfast to be ready, she moves on to a banana.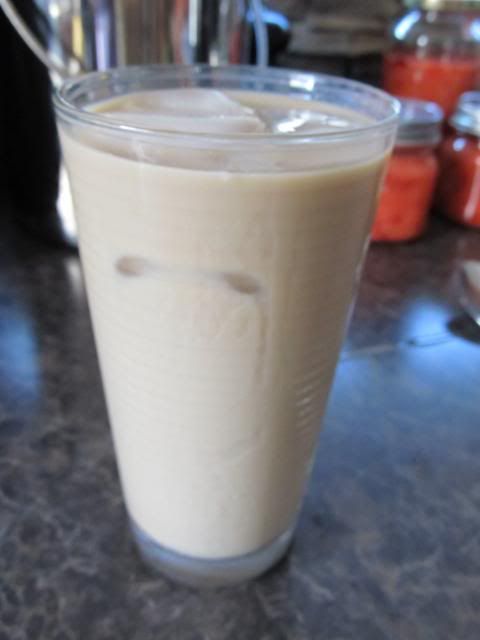 I make myself an iced coffee
.
Ty fixes Delilah a plate of more left-over breakfast items and chats with her while she eats it.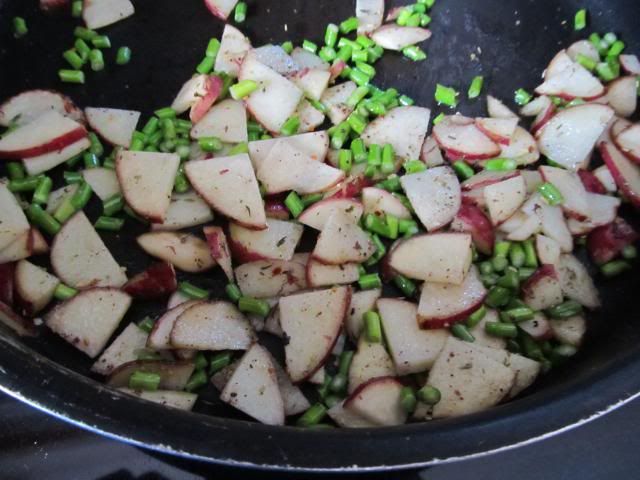 I throw together a breakfast scramble with potatoes, garlic scapes, veggie sausage, and eggs.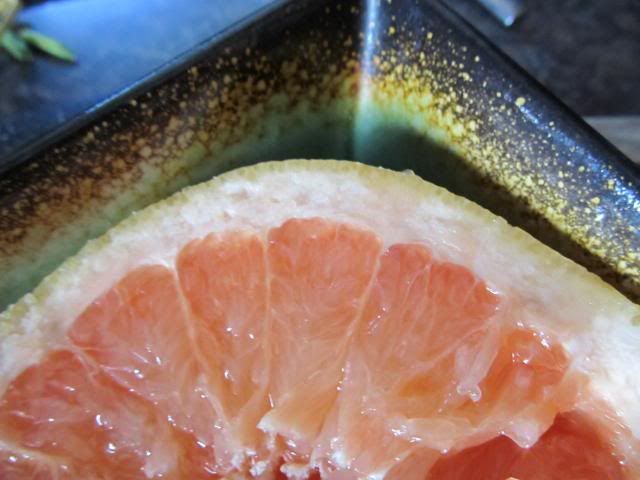 Mmmmm....grapefruit.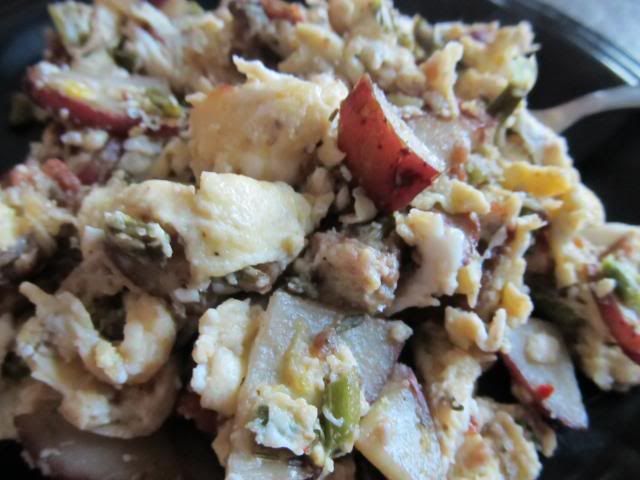 At last, breakfast is served!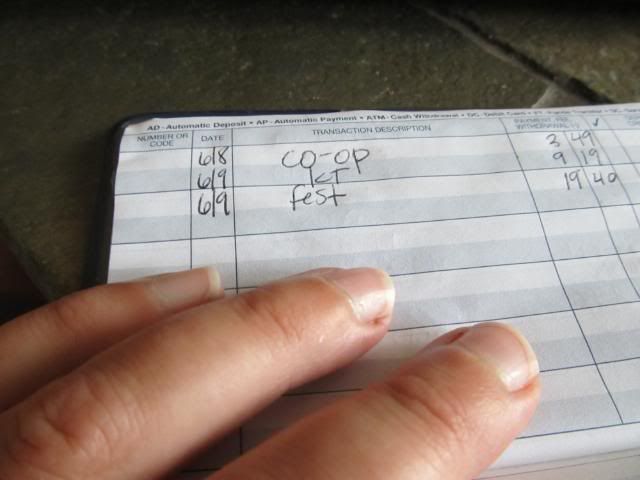 After breakfast, I balance the check book.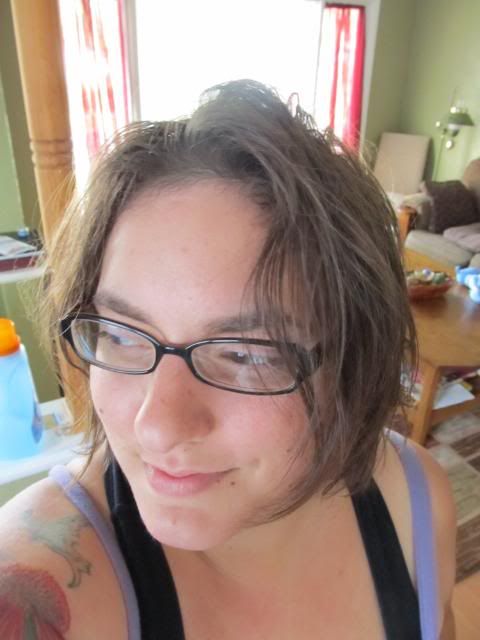 Here's me in all of my morning glory.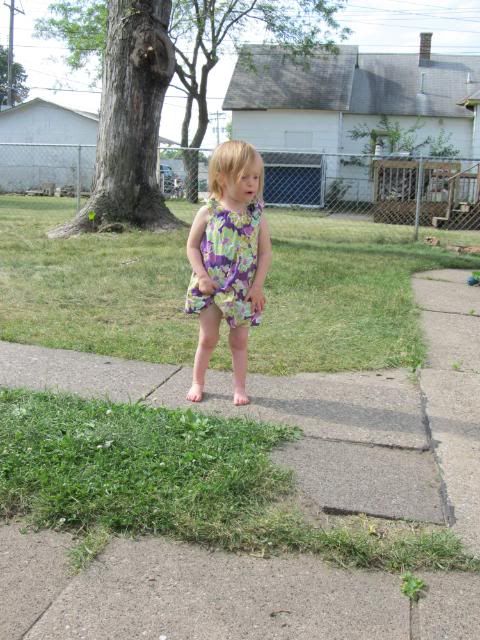 I convince Delilah to throw a dress on and we head outside before it gets too hot.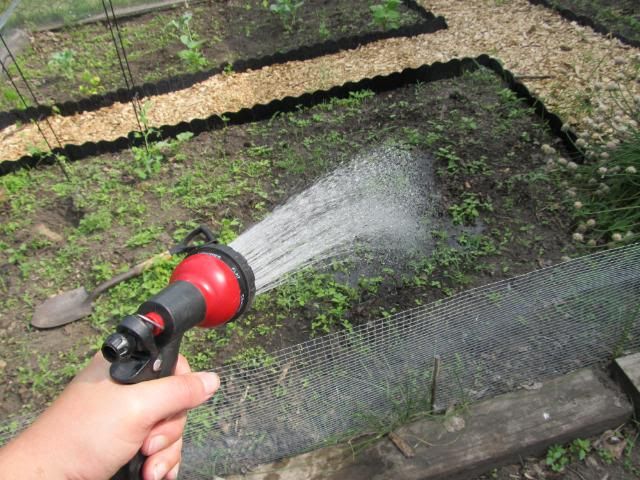 I water the veggies.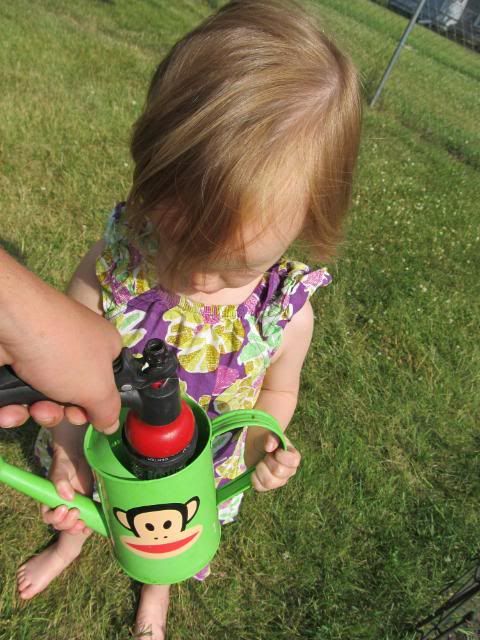 Delilah wants to help.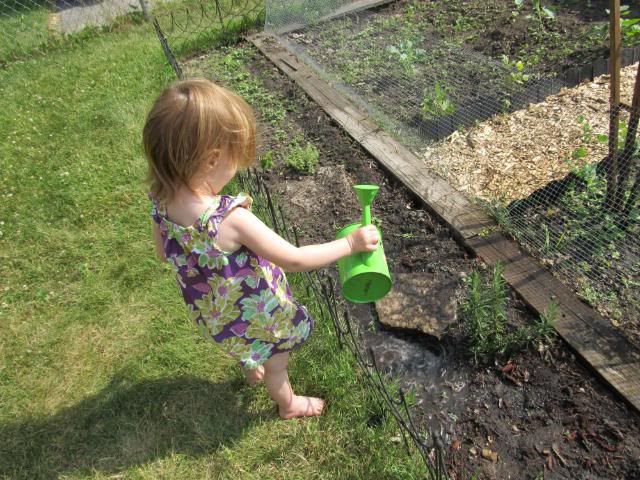 She hasn't exactly mastered the watering can yet, but neither of us care. :)
This doesn't look like much at a glance,
but buried underneath that grass and fur is a nest of baby bunnies.
In my veggie garden. IN MY VEGGIE GARDEN.
Which explains why this is the most lettuce I've seen.
Time to add the kitchen compost to the tumbler.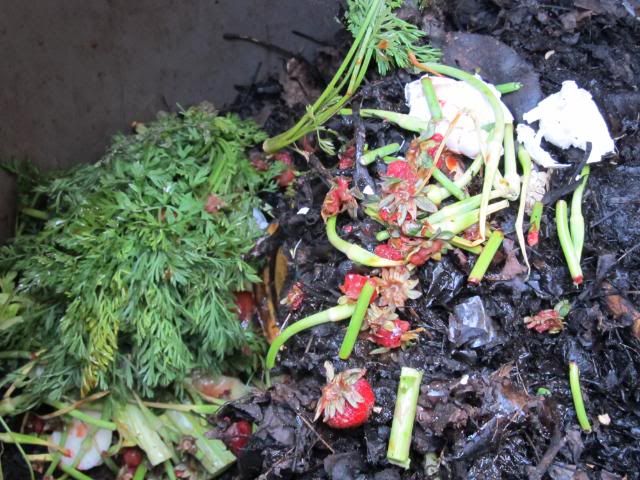 Compost-y Goodness.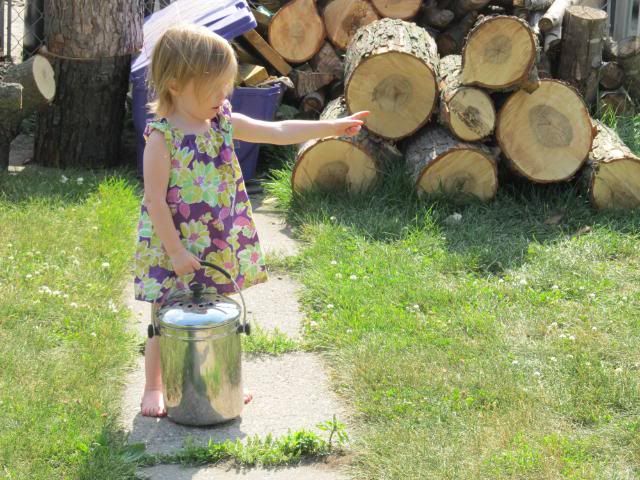 Delilah picks up the kitchen compost bucket
and I ask her to bring it back to the house.
She says "No, that way."
We head back inside and I lay down on the couch for a minute.
Delilah snatches my camera and takes this self portrait.
Then she brings me a glass of ice water.
.
While we were busy outside, Ty was taking care of the dishes.
Ty and Delilah folded some laundry while I showered.
Ty and I found a home for our chest freezer.
I've started working on a bit of food preservation and at last, we need the space.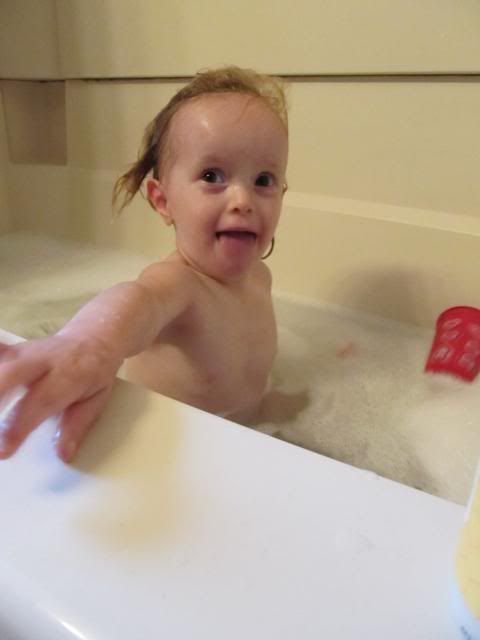 Bath time for Delilah.
I'm all dressed and ready!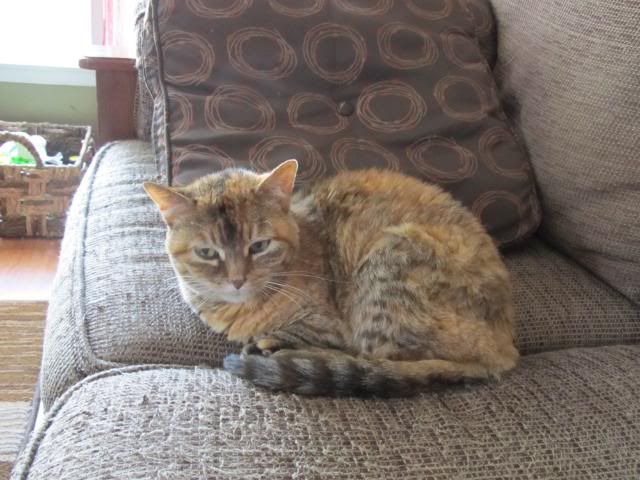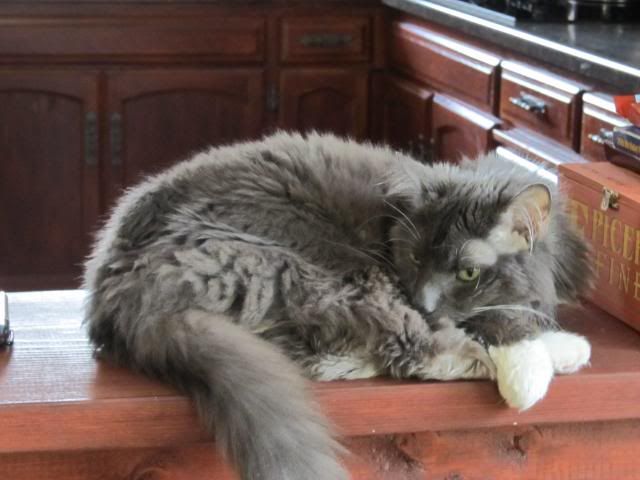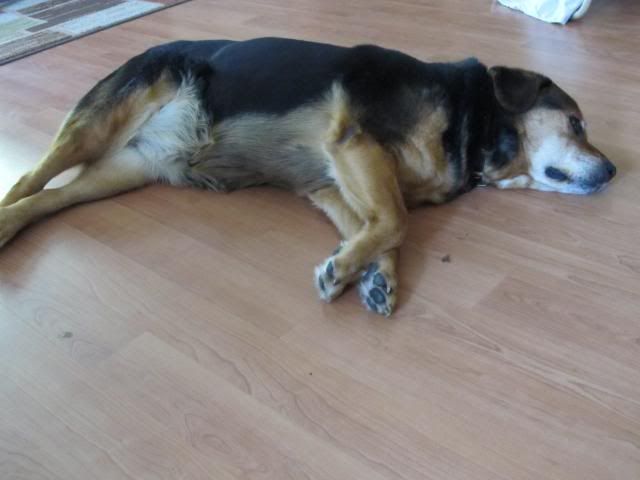 Lazy pets are lazy. Even with the AC on, it's a hot one.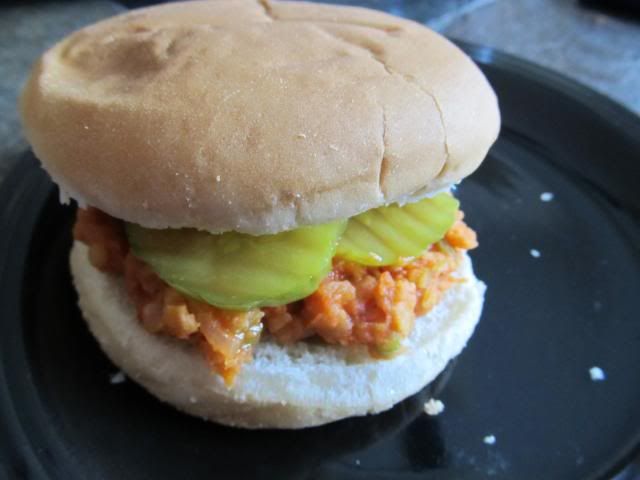 I fix myself a leftover vegetarian sloppy joe. Known affectionately in our house as a "sloppy joella".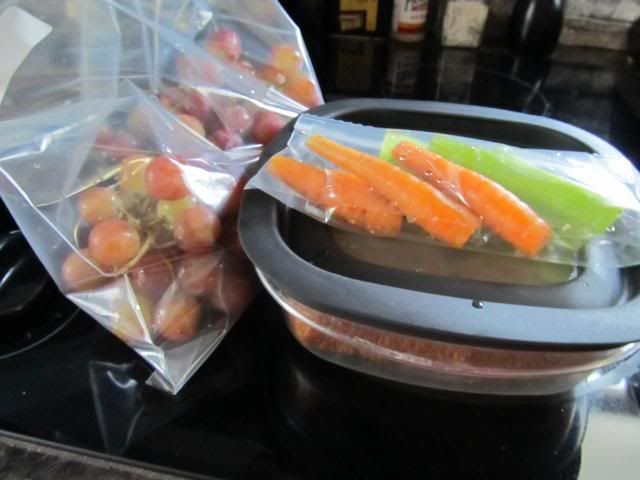 I make a sandwich and prepare some snacks to go for Delilah.
We're heading out for my brother's baseball game.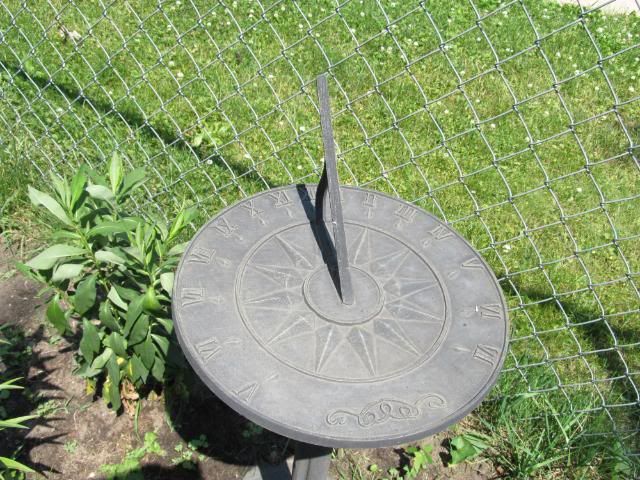 Time check! ;)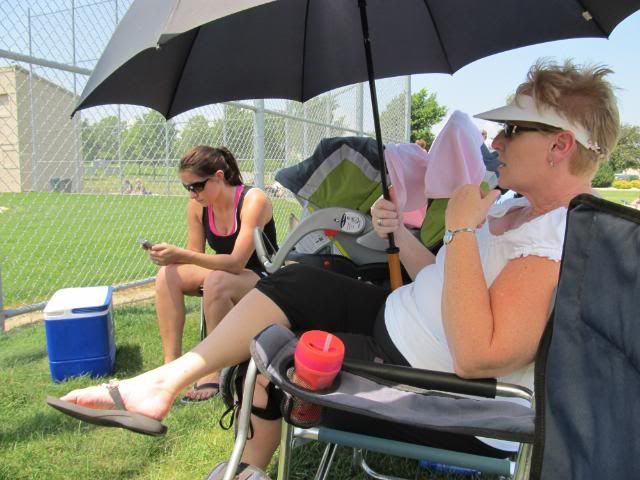 We arrive at the field; my sister, niece, and mom are already settled in.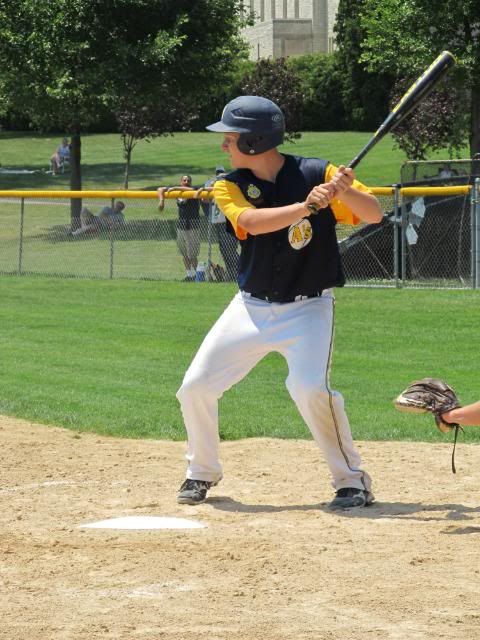 My brother has an at-bat and gets on base.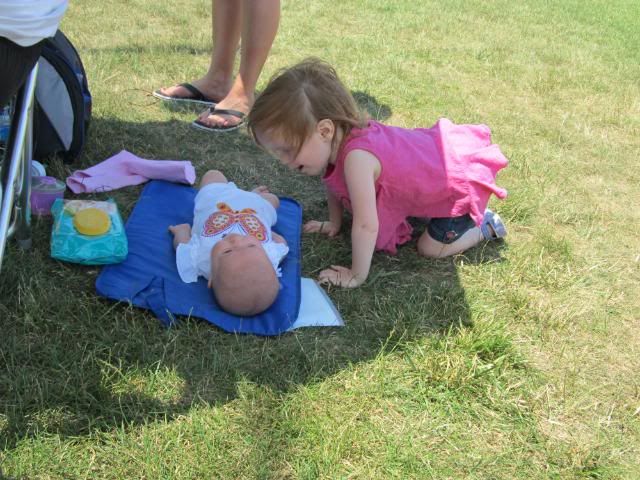 Harper awakes from her slumber and Delilah entertains her.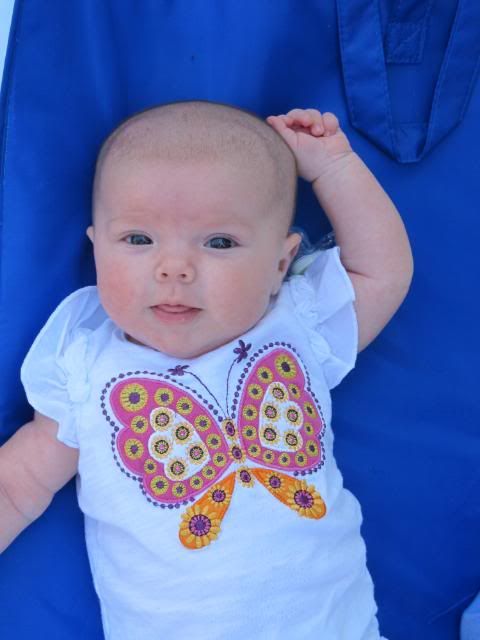 My sister and I are very talented at making baby girls who look exactly like our husbands.
My brother pitches.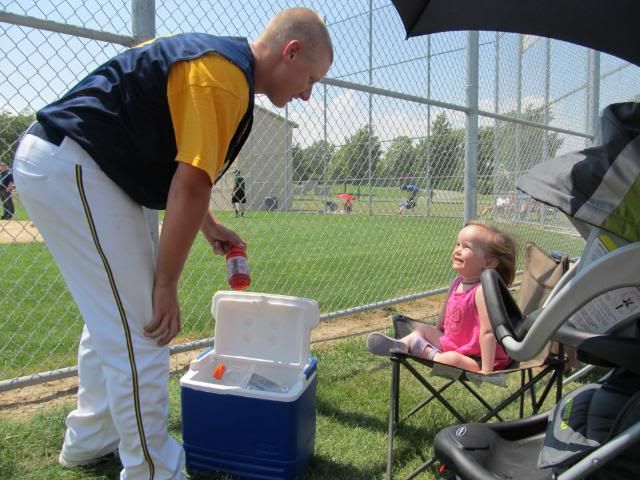 Delilah is always a bit starstruck by her uncle at his games. :)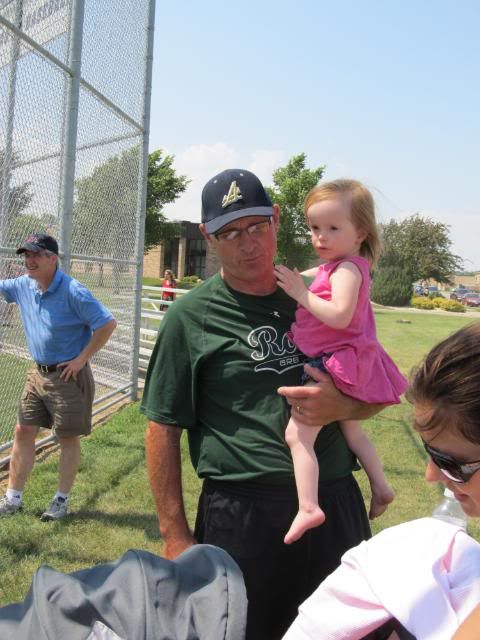 Delilah hanging with her Grandpa.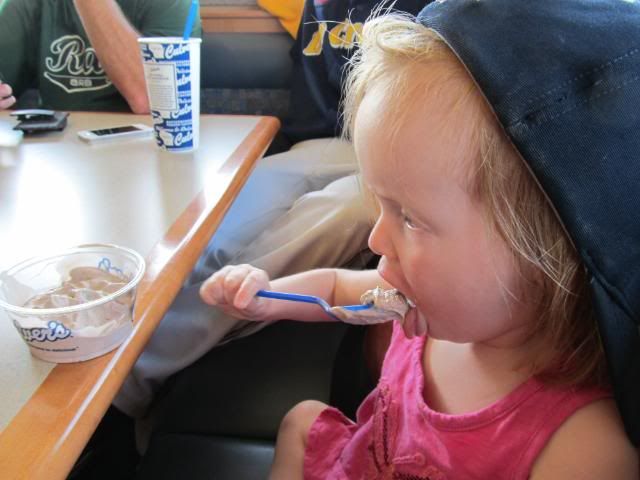 After the game, we all head out for some frozen custard.
Back at home, Ty takes Delilah downstairs to play while I nap on the couch for a bit.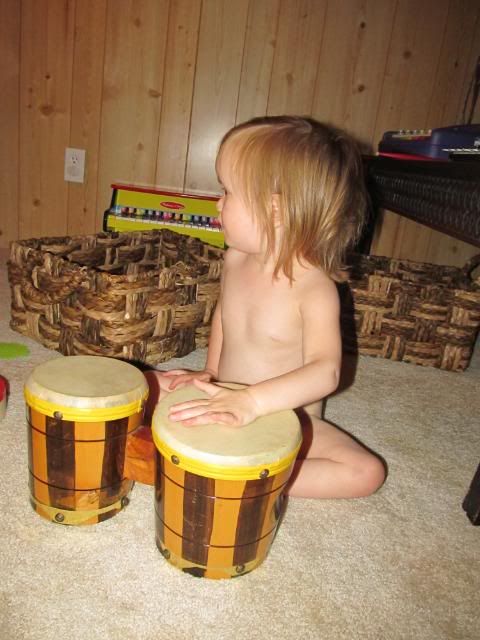 I awake to the sounds of her music making drifting upstairs.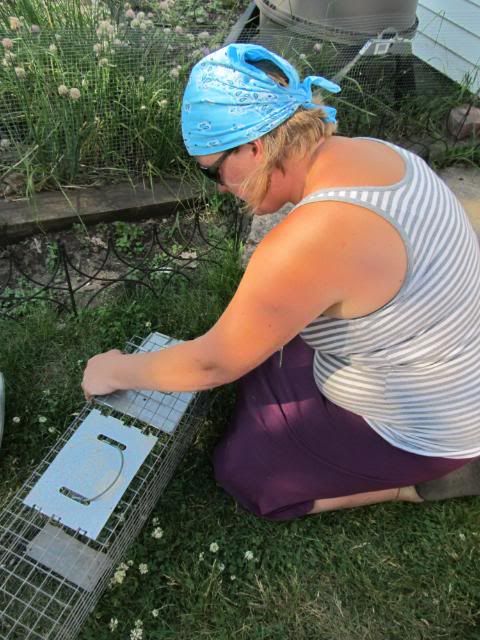 My friend Missy arrives with some garden goodies and a trap.
I'm hoping to trap mama bunny and relocate her and her babies far away from my garden.
Delilah snacks on some of the berries Missy brought us.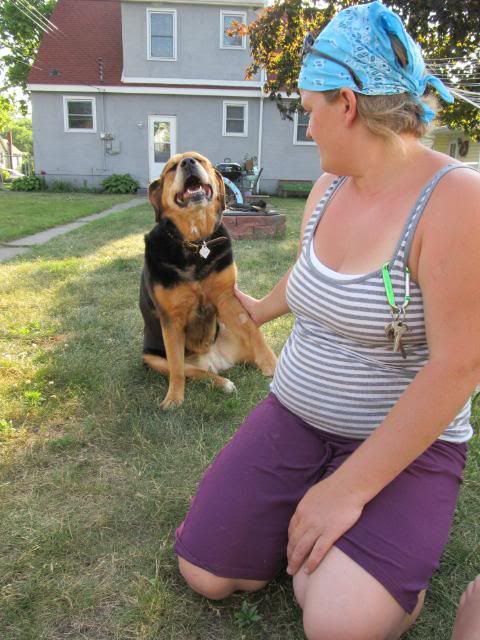 Everyone in our household loves Missy. Even the furry four-legged family members.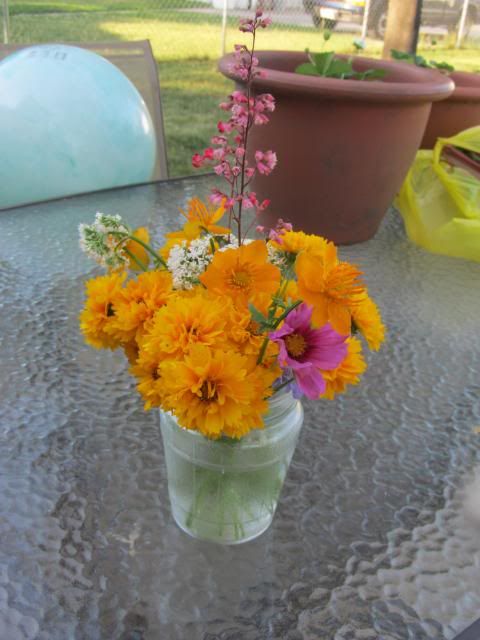 Because she does things like help us trap bunnies, and bring us produce, and pretty flowers. <3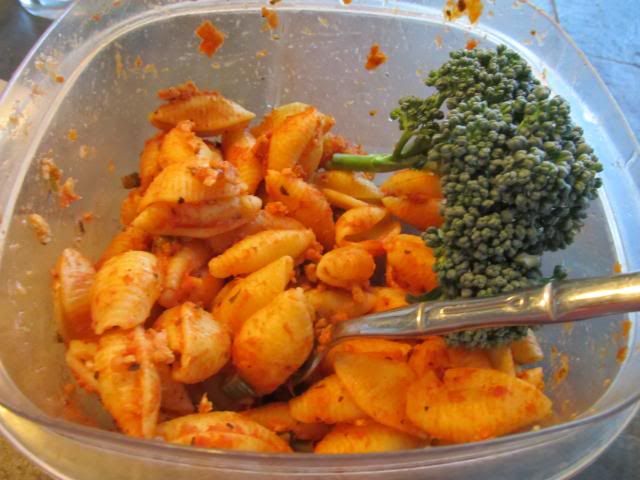 Too hot to cook, so dinner is leftover pasta and some of the broccoli Missy brought us.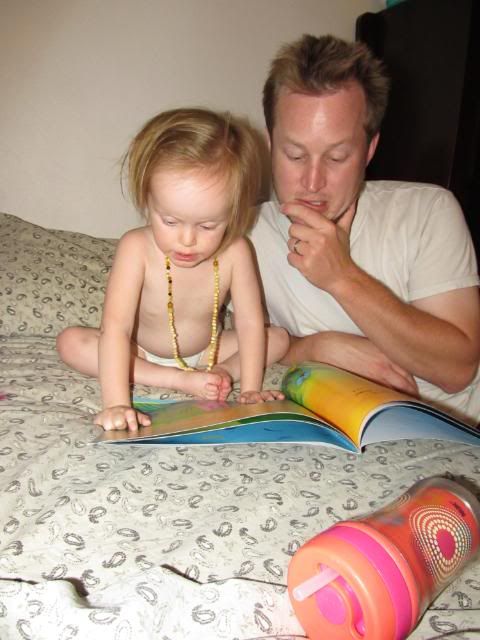 After a rare second bath of the day, it's time for a book and bed for Delilah.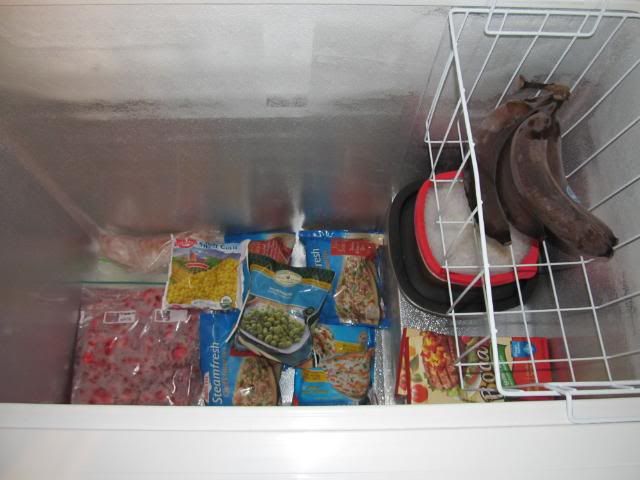 The chest freezer is sufficiently cold, so I start transferring some things to it.
Then I stick the jam I made the night before in to freeze.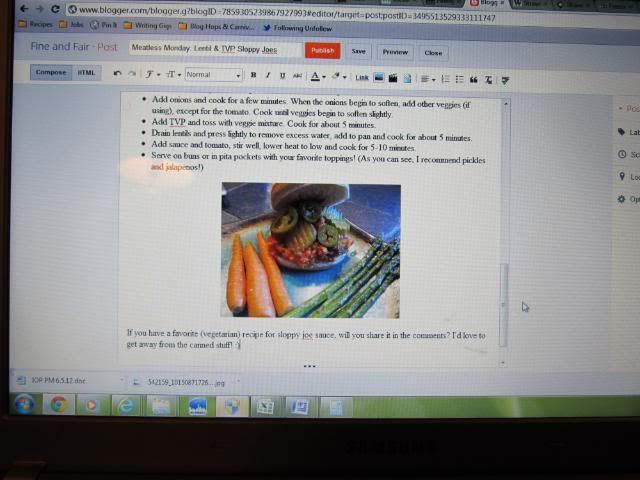 Ty watches some TV and I work on posting
the vegetarian sloppy joe recipe for Meatless Monday.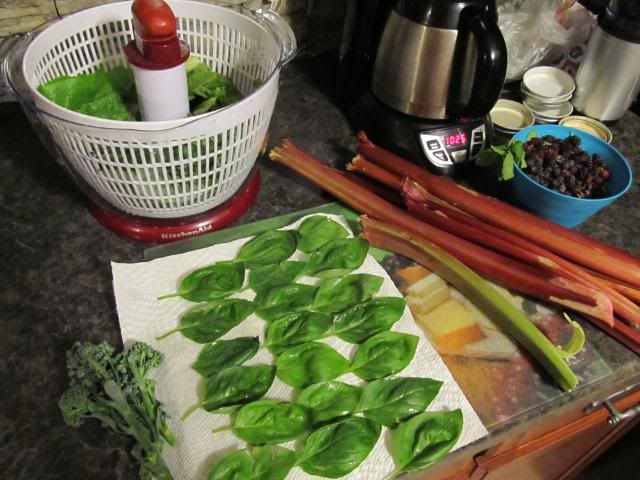 I clean and store the remaining goodies Missy brought.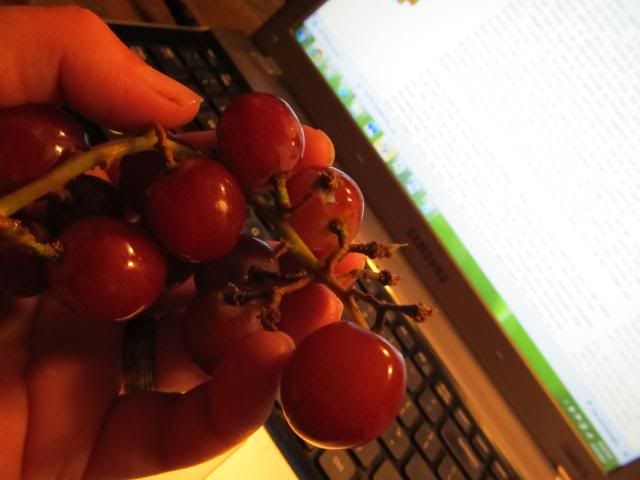 I snack on handful of grapes and read a lovely VBAC birth story a friend linked me to.
At last, I climb into bed! Goodnight!
***
If you like this blog, please vote for me on Babble's Top 100 Mom Blogs.
Thanks for your support!